NOFX has announced their Summer and Fall 2024 tour dates. A list of the tour date are down below. This will, unfortunately, be the last tour for the band. 
Rock band NOFX is known for their many hits like "The Brews" and "Don't Call Me White." But sadly, their devoted fans will have to say goodbye next year. Thankfully, the band will be touring all around North America before they take their leave.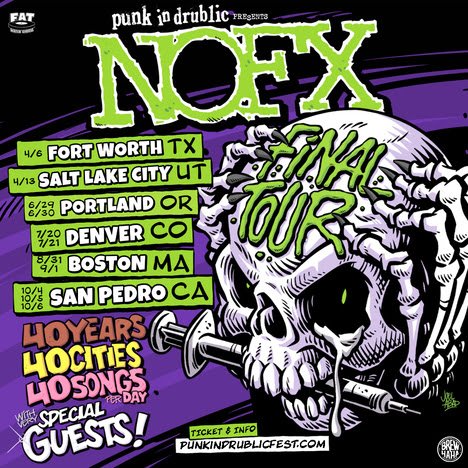 According to a press release, "Influential punk band NOFX—Fat Mike (vocalist/bassist), guitarists Eric Melvin and El Hefe, drummer "Smelly" Eric Sandin–is known as one of the world's most controversial and significant punk bands of their time. NOFX formed in Los Angeles in 1983 and went on to sell over 6 million records worldwide, including two records that went gold in the US and Canada. They are no strangers to pushing boundaries at their live shows, and their final tour is no different."
So, NOFX's fans, get your tickets because they may just be in your backyard next year.
Read more about NOFX here.  Photo credit is Raymond Flotat.
Tour dates for NOFX Final Tour :
Saturday April 6, 2024 – Fort Worth, TX – Panther Island
Sunday, April 13, 2024 – Salt Lake City, UT – Pioneer Park *
Saturday, June 29, 2024 – Portland, OR – Waterfront Park
Sunday, June 30, 2024 – Portland, OR – Waterfront Park
Saturday, July 20, 2024 – Denver, CO – The Stockyards
Sunday, July 21, 2024 – Denver, CO – The Stockyards
Saturday, August 10, 2024 – Edmonton, AB, Canada – Fan Park at Ice District
Sunday, August 11, 2024 – Edmonton, AB, Canada – Fan Park at Ice District
Friday, August 23, 2024 – Montreal, QC, Canada – Parc Olympique
Saturday, August 24, 2024 – Montreal, Quebec, Canada – Parc Olympique
Saturday, August 31, 2024 – Brockton (Boston), MA – Campanelli Stadium
Sunday, September 1, 2024 – Brockton (Boston), MA – Campanelli Stadium
Friday, October 4, 2024 – San Pedro (Los Angeles), CA – Berth 46
Saturday, October 5, 2024 – San Pedro (Los Angeles), CA – Berth 46
Sunday, October 6, 2024 – San Pedro (Los Angeles), CA – Berth 46