The band Iceage has announced a tour that will take place during Spring 2022. The tour starts on February 12 in San Francisco and will make its way through locations in both the US and the UK, including LA, Houston, Atlanta, Nashville, NY, Kingston, Nottingham, and London. The band also released a new single titled "Gold City," from their upcoming album Seek Shelter, out May 7 on Mexican Summer. The song is described in a press release as "a passage in Seek Shelter's story of scorched-earth salvation. The American gospel and blues signatures present in the previous single "Vendetta" reappear here as Elias Bender Rønnenfelt rousingly sings of a vast journey."
The announcement also describes the album as a "collection of songs radiating warmth and a profound desire for salvation in a world that's spinning further and further out of control. Throughout, Rønnenfelt's lyrics reach grand heights despite its classic opacity — he sings of taking shelter, of tranquil affections that threaten to combust, and of a limp-wristed god with a cavalcade of devotees in search of relief. His expressionist imagery consistently hinges on the divine." Check out the new single below:
The song starts as a slow, methodical march of guitars, drums, and a harmonica. The first verse continues the momentum until finally, the song releases a symphony of sounds including a tambourine, bass, and piano riff playing in a low octave that gives the song a heavy flavor. Rønnenfelt comments: "At home and enraptured in the fleeting moment, the sky becomes technicolor in its makeshift lucidity. A culmination made so that everything felt briefly complete. Traffic lights and the setting sun through a polluted filter, shimmering and golden." Iceage has also announced a Seek Shelter concert streaming Saturday, May 22 at 8 pm Eastern and 8 pm Pacific. The concert will feature a performance of Seek Shelter in its entirety.
The band recently performed at SXSW 2021 and released a single inspired by the Coronavirus pandemic.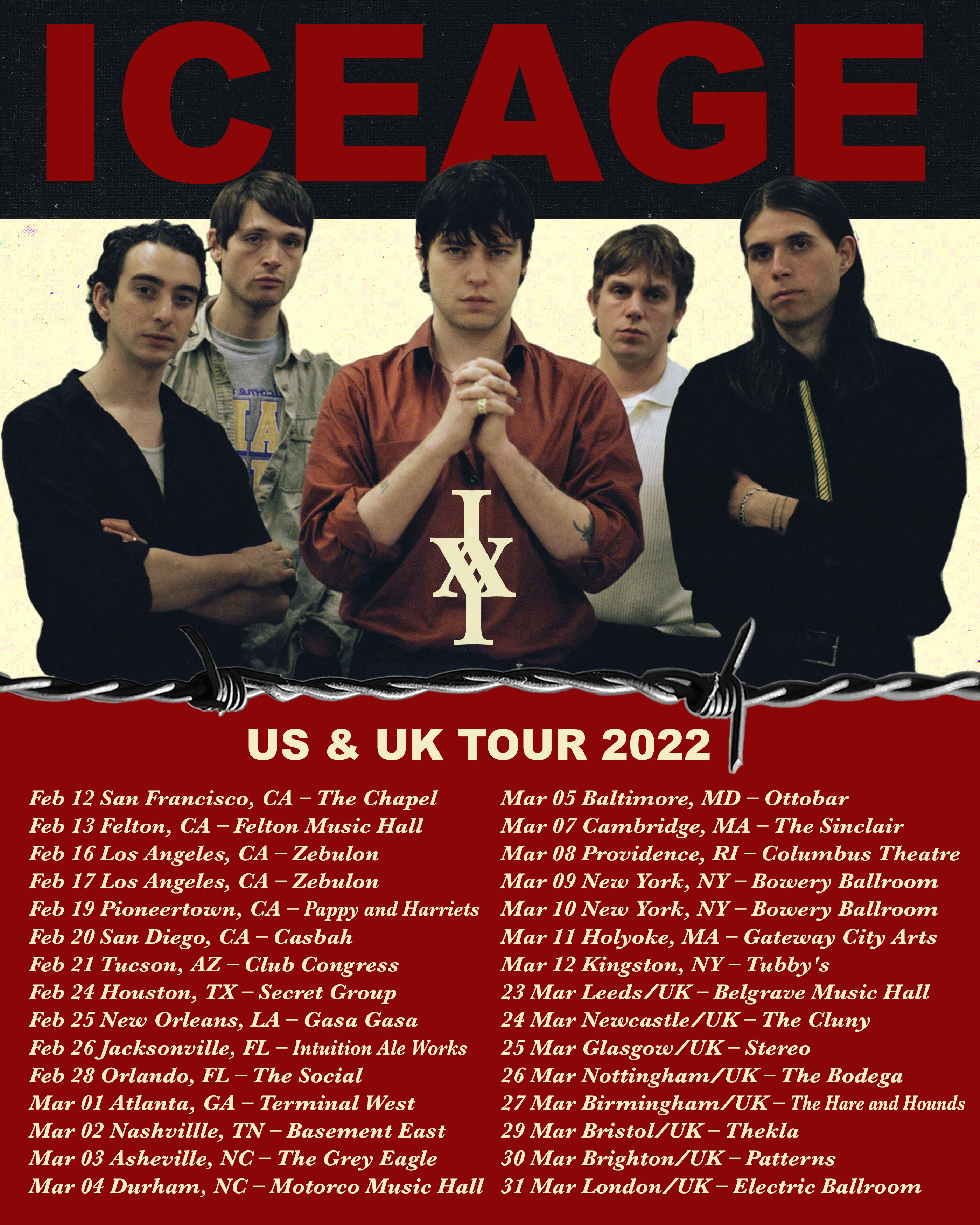 The tour dates can also be found below:
Sat. Feb. 12 –  San Francisco, CA @ The Chapel
Sun. Feb. 13 – Felton, CA @ Felton Music Hall
Wed. Feb. 16 – Los Angeles, CA @ Zebulon
Thu. Feb. 17 – Los Angeles, CA @ Zebulon
Sat. Feb. 19 – Pioneertown, CA @ Pappy and Harriets
Sun. Feb. 20 – San Diego, CA @ Casbah
Mon. Feb. 21 – Tucson, AZ @ Club Congress
Thu. Feb. 24 – Houston, TX @ Secret Group
Fri. Feb. 25 – New Orleans, LA @ Gasa Gasa
Sat. Feb. 26 – Jacksonville, FL @ Intuition Ale Works
Mon. Feb. 28 – Orlando, FL @ The Social
Tue. March 1 – Atlanta, GA @ Terminal West
Wed. March 2 – Nashville, TN @ Basement East
Thu. March 3 – Asheville, NC @ The Grey Eagle
Fri. March 4 – Durham, NC @ Motorco Music Hall
Sat. March 5 – Baltimore, MD @ Ottobar
Mon. March 7 – Cambridge, MA @ The Sinclair
Tue. March 8 – Providence, RI @ Columbus Theatre
Wed. March 9 – New York, NY @ Bowery Ballroom
Thu. March 10 – New York, NY @ Bowery Ballroom
Fri. March 11 – Holyoke, MA @ Gateway City Arts
Sat. March 12 – Kingston, NY @ Tubby's
Wed. March 23 – Leeds, UK @ Belgrave Music Hall
Thu. March 24 – Newcastle, UK @ Cluny
Fri. March 25 – Glasgow, UK @ Stereo
Sat. March 26 – Nottingham, UK @ The Bodega
Sun. March 27 – Birmingham, UK @ The Hare and Hounds
Tue. March 29 – Bristol, UK @ Thekla
Wed. March 30 – Brighton, UK @ Patterns
Thu. March 31 – London, UK @ Electric Ballroom