After a series of cryptic messages and teasers and temporarily deleting their social media presence, Radiohead has finally debuted their new single and video "Burn the Witch". The song is the lead single from the English band's forthcoming 9th studio album.
The stop-motion video, directed by Chris Hopewell and produced by Jacknife, features people in a small village engaging in sinful activities. At the end a giant wood statue is revealed and lit on fire.
The animation is based on the British children's TV program "Trumpton"
"Burn the Witch" is the first new Radiohead music to be released since last Christmas, when the band shared their unused submission for the James Bond soundtrack, "Spectre." "Burn the Witch" has been teased to fans for more than a decade. The phrase "burn the witch" appeared in a piece of Stanley Donwood artwork included in the booklet to Hail the Thief way back in 2003 and has been teased in a blog post by Thom Yorke back in 2005. The opening of the song was also teased by Yorke during shows in 2006 and 2008 respectively.
According to Radiohead producer Nigel Godrich, the song was worked on during the sessions for Kid A, Hail to the Thief, and In Rainbows.
The band has also altered it's twitter photo to a new piece of abstract artwork.
Radiohead recently announced a world tour, which pretty much sold out within minutes. The single artwork, along with those dates will be posted below.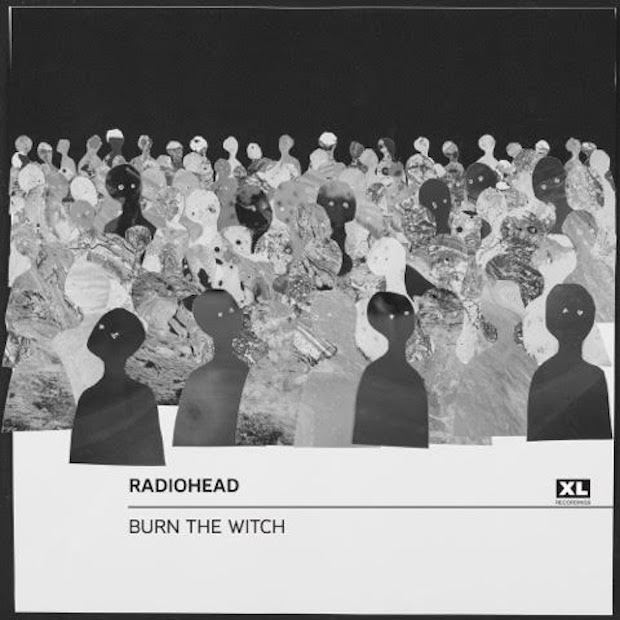 Radiohead 2016 tour:
05-20-21 Amsterdam, Netherlands – Heineken Music Hall
05-23-24 Paris, France – Le Zénith
05-26-28 London, England – Roundhouse
06-01 Lyon, France – Les Nuits Des Fourvieres
06-03 Barcelona, Spain – Primavera Sound Festival
06-17 Reyjkavik, Iceland – Secret Solstice
07-02 St. Gallen, Switzerland – Openair St. Gallen
07-08 Lisbon, Portugal – Nos Alive Festival
07-26-27 New York, NY – Madison Square Garden
07-29 Chicago, IL – Lollapalooza
07-31 Montreal, Québec – Osheaga Music and Arts Festival
08-04 Los Angeles, LA – Shrine Auditorium
08-06 Golden Gate Park, CA – Outside Lands
08-08 Los Angeles, LA – Shrine Auditorium
08-20 Osaka, Japan – Summersonic Festival
08-21 Tokyo, Japan – Summersonic Festival
09-11 Berlin, Germany – Lollapalooza
10-03-04 Mexico City, Mexico – Palacio de los Deportes