Treefort Music Fest has had a long history. Produced by The Duck Club, a group formed by Lori Shandro as a distraction from her husband's death, Treefort Music Fest started in 2012 as a fully DIY festival devoid of any corporate sponsorship. The festival took place as a three-day festival in late March with more than 137 bands performing across the Northwest, New Zealand, and Australia with 8 stages of music and 10 hours of performances each day. In 2013, the festival sold out in 17 minutes with every year selling out quicker. 2013 featured over 250 bands with a conscious decision to feature a more diverse set of acts. Their headline that year was the-now-sorely-missed Sharon Jones and the Dap Kings which influenced their passes selling three times as much as the previous years.
Now, for 2019, Treefort Music Fest's new 2018 lineup has been announced. They have announced, through a press release, its first round of artists which include George Clinton & Parliament Funkadelic, Andrew W.K., Zola Jesus, Treepeople, Oddisee & Good Company, Lido Pimienta, Built To Spill, Galactic, Connan Mockasin, Twin Peaks, Cindy Wilson (Of the B-52's), and Hanni El Khatib. Passes are now on sale, get them here before they sell out! This year the  festival will feature over 400 bands as well as film, art, comedy, yoga, beer, and more and will be in multiple venues in downtown Boise of March 2018. Check out the full list of acts in the flyer below. Treefort Music Fest has also stated the second wave of lineup announcements will come out next month.
George Clinton has been around as one of the leaders in all things musical since his early career as a staff writer in the 1960s for Motown Records. By 1968, Clinton formed the funk and soul collective that he headed known as Parliament-Funkadelic (P-Funk). Formed in New Jersey, P-Funk has scene an insane amount of commercial success, however, due to the success the group's members had begun to waver, so a change in the lineup was due. As the musicians changed, P-funk experienced a large number of notable musicians in their group in the 1970s such as Bernie Worrell, Bootsy Collins, Garry Shnider, and The Horny Horns.
In 1997, George Clinton and its 15 P-Funk members were inducted into the Rock and Roll Hall of Fame, making them the largest to be honored by the Hall of Fame. Clinton has also had his hands in film, such as his role in Good Burger and Flying Lotus' post-apocalyptic Kuso.
Andrew W.K. is a singer and song-writer born in Michigan. He began his career in the 90s under a few local bands before he decided to pursue a solo career in New York where he released his first five tracks under his new moniker Andrew W.K. Aside from his successful venture into music, W.K. has also delved, successfully, into the self-help and motivational performance realm hosting lectures at schools such as Yale, NYU, Carnegie-Mellon, and more. Andrew W.K. will be featured at Treefort Music Fest this year alongside many other indie artists.
UPDATE (2/12)Pussy Riot, CULTS, Matthew Dear, Magic Sword, Yoni Wolf (of WHY?), Land of Talk and many more have been added to Treefort. Check out the full list here.
This will be Pussy Riot's first ever tour in the United States featuring incredible and thought provoking performance art alongside their powerful music. It's a show you don't want to miss.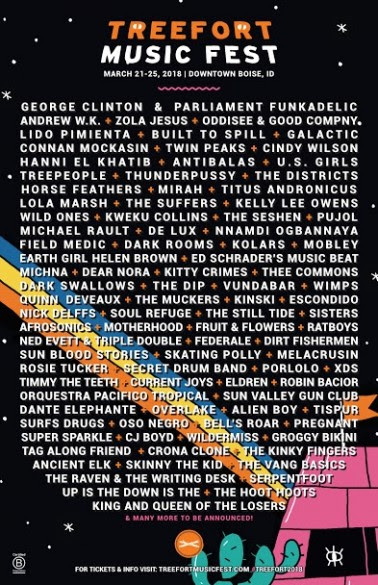 Photo credits to Marisa Rose Ficara and Raymond Flotat