Afropunk has announced the lineup for this year's festival, set to take place August 27-28 at Brooklyn's Commodore Barry Park. This years installment of the annual festival, which has recently expanded to Atlanta and Paris, will feature Ice Cube, Tyler the Creator, TV On The Radio, Janelle Monáe, Flying Lotus, the Internet, and Cee Lo Green, among others.
The lineup also touts "Superjam" which appears to be a new project featuring members of Bad Brains, Fishbone, and Living Colour.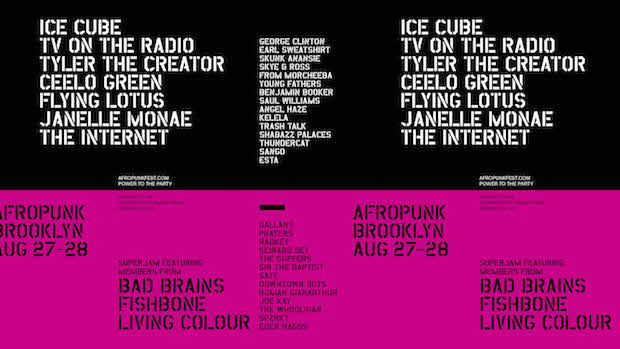 The theme for this years festival is "POWER TO THE PARTY." A press release from Afropunk gave the following details:
Power, it's a feeling, it's an energy, it's the undisputed connection between cause and effect – the best of us give it away, the worst usurp it, but living modern life to the fullest, means either mastering your relationship to it or walking in its shadow. We are not blind.
Party is an oxymoron, it's a gathering of many for a shared purpose and it's also an outcast individual, it's a lively social occasion as well as a gang – and the story of any party is never over, because like naked cities and the metaphysical "I", there's always another take.
Power to the Party means trusting the friction, the transference of great capacity to the free spirit, belief in the high-heeled spark of the assembly, and the group-mind's ability to choose a glorious path. This isn't about getting elected, or being protected; it's about staking a claim.
Join the party and feel its power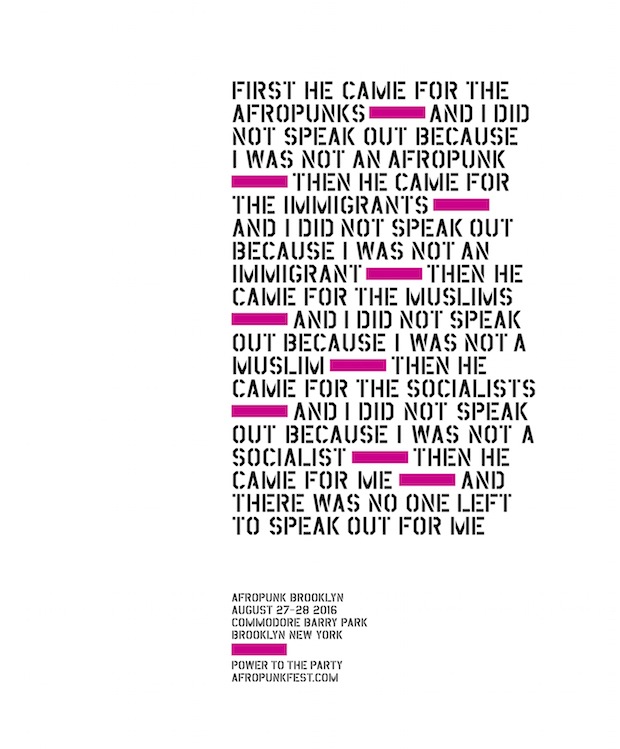 In addition to the musical acts, the festival will showcase the work of hundreds of young local artists in conjunction with the Art for Amnesty (Amnesty International USA) and Museum of Contemporary African Diasporan Arts (MoCADA). Tickets for the festival are on sale
here
and will be through the 28th of August. Afropunk is also offering the chance for people who can not afford a ticket to volunteer for 8 hours to earn a ticket.
AFROPUNK BROOKLYN 2016 LINEUP
Ice Cube
TV On The Radio
Tyler The Creator
CeeLo Green
Flying Lotus
Janelle Monae
The Internet
SUPERJAM
Featuring Members from
Bad Brains
Fishbone
Living Colour
George Clinton
Earl Sweatshirt
Skunk Anansie
Skye & Ross from Morcheeba
Young Fathers
Benjamin Booker
Saul Williams
Angel Haze
Kelela
Trash Talk
Shabazz Palaces
Thundercat
Sango
Esta
Gallant
Prayers
Radkey
Seinabo Sey
The Suffers
Sir The Baptist
Sate
Downtown Boys
Roman GianArthur
Joe Kay
The Whooligan
SPZRKT
Eden Hagos