Photo Credit: Sharon Alagna
On April 29th, the Girls Rock Camp Foundation will be holding a benefit gala called "Girls to the Front" that will take place at the Chateau Marmont in Los Angeles. The event will be hosted by Rachel Bloom, actress from "Crazy Ex-Girlfriend", and will feature many different artists, including Tegan & Sara, Beth Ditto, and HAIM. The Girls Rock Camp Foundation is dedicated to raising funds for Girls Rock Camps, which focus on helping girls with developing life skills and creative expression through music.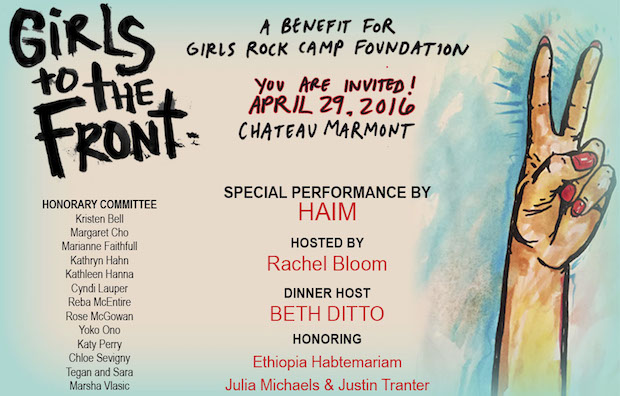 Canadian pop duo Tegan & Sara, composed of two identical twin sisters, formed in 1995 and have released seven studio albums in their career so far. Their eighth one, Love You to Death, will be released in June of this year. Their last album, Heartthrob, was released back in 2013. The album won the Grammy for Album of the Year.
Beth Ditto, an American singer-songwriter, is most known for her work with indie rock band Gossip. The band formed back in 1999 but split up awhile later. They managed to put out five studio albums in the span of the band's career. Their final album, A Joyful Noise, was released in 2012, and Ditto confirmed this year that Gossip had split up and she would focus on her solo career from now on.
American pop rock band HAIM is composed of three sisters along with a drummer. They have been around since 2007, but have recently gained popularity over the past few years with their debut album Days Are Gone, released in 2013. Last month, the band announced they would be going on tour this summer and they have also hinted at new music coming this year.