Photo Credit: Sharon Alagna
Earlier today, Ryan Adams announced via Twitter that he would be headlining the Sloss Music & Arts Festival this year by tweeting a picture of the festival flyer. On July 16th and 17th, the two-day music and lifestyle event will take place at Sloss Furnaces National Historic Landmark in Birmingham, Alabama with three stages and over 30 musical acts to offer. In addition to Ryan Adams, Flaming Lips and Ray LaMontagne will also headline the festival.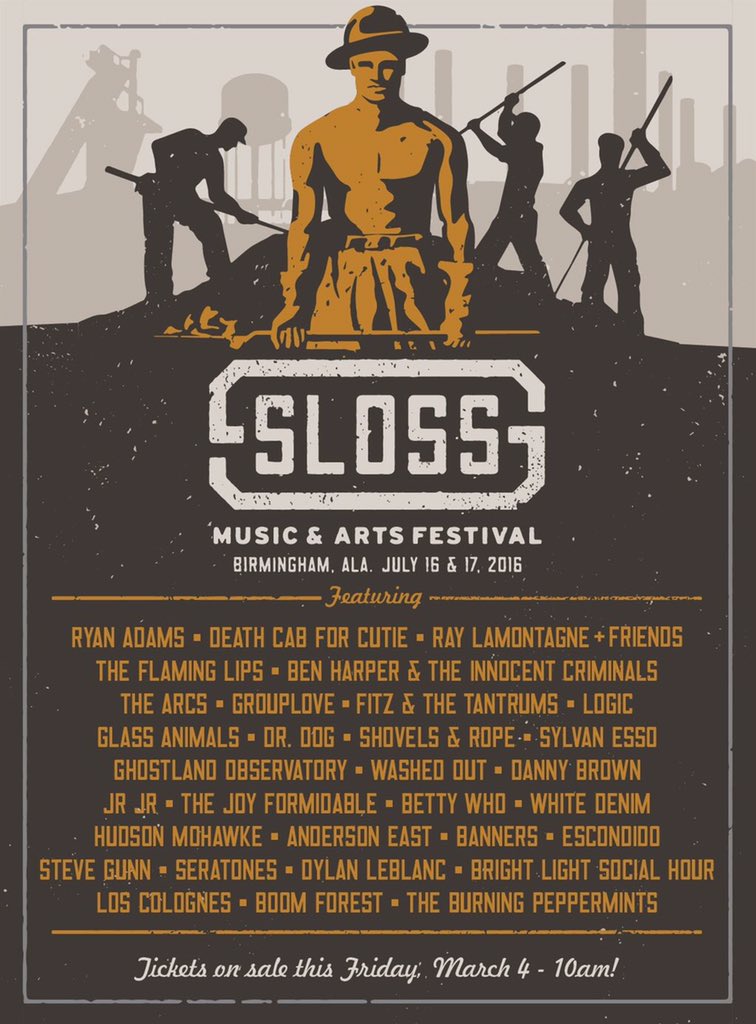 Ryan Adams is more than just a singer-songwriter: he's also a producer, poet, and even painter. Adams is best known for his solo career, although you may know him as former member of the country band Whiskeytown, which he left in 2000 to release his first solo album Heartbreaker. But if you've been keeping up with Top 40, you'll know that Adams released an entire cover album of Taylor Swift's latest hit album 1989. Check out a review of his cover album here.
Flaming Lips, the American rock band, has been around since 1983 with a whopping fifteen studio albums as a result. Their most recent one, With a Little Help from My Fwends, was released in 2014 and is a track-by-track tribute to The Beatles album Sgt. Pepper's Lonely Hearts Club Band. Last summer, they wrote and recorded a free, experimental 23-track album with Miley Cyrus called Miley Cyrus & Her Dead Petz. And recently, the band covered some David Bowie songs live at a tribute show.
Ray LaMontagne has a new album coming out in just 3 days (March 4th), Ouroboros, which will be his sixth studio album so far. LaMontagne is known for his unique singing style (a raspy baritone), which he says is because of him singing from his gut, rather than his nose. In 2011, he won the Grammy for Best Contemporary Folk Album.
Tickets go on sale this Friday, March 4th at 10am CT. Get them here.
Sloss Music & Arts Festival 2016 Lineup
Ryan Adams
Death Cab For Cutie
Ray Lamontagne + Friends
Ben Harper & The Innocent Criminals
Flaming Lips
Logic
The Arcs
Grouplove
Fitz & The Tantrums
Anderson East
Dylan LeBlanc
Glass Animals
Dr. Dog
Shovels & Rope
Sylvan Esso
Ghostland Observatory
Washed Out
Betty Who
Danny Brown
JR JR
The Joy Formidable
White Demin
Hudson Mohawke
BANNERS
Escondido
Steve Gunn
Seratones
Bright Light Social Hour
The Burning Peppermints
Los Colognes
Boom Forest