Primavera Sound Festival has just released their 2016 lineup featuring Radiohead, LCD Soundsystem and Sigur Ros to name a few.

The Primavera Sound Festival has been a running annual music festival since 2001 and has seen huge acts such as The White Striples, Iggy and the Stooges, Lou Reed, Motorhead and Neil Young to name a few. Located in Barcelona, Catalonia, Spain, Primavera Sound is one of the largest music festivals in Spain.
Coming up on the festival's 16th year, Primavera definitely prepared for one of its biggest years yet. With their top billers being the infamous Radiohead, the recently reformed LCD Soundsystem and PJ Harvey they are set to blow the crowds away. Other artists include Tame Impala, Sigur Ros, Animal Collective, Beach House and Brian Wilson of the Beach Boys with a specification of performing Pet Sounds. Pet Sounds was the 11th studio album from the Beach Boys and for any fan of classic 60s Beach Boys sound this will be a treat. These are just a few of the first tier of artists that will be performing at the festival.
Down to the second tier of the featured artists Primavera will include Kamasi Washington, Neon Indian, Jay Rock and the 90s Seattle heroes Mudhoney to, again, just name a few. The third tier of artists includes many notable acts such as Black Lips, Roosevelt and The Chills.
Pitchfork will program their own stage at the festival, like they have done in the past.
Tickets started at 125 Euros which is about 136 U.S. dollars as the first installement of ticket sales. The next price available will be 175 euros, which is about 190 U.S. dollars and will open on February 3 via ticketmaster and Portal with additional fees or La Botiga with no additional fees. For more ticketing information view here. A full list of the festivals lineup and the official festival flyer can be found below.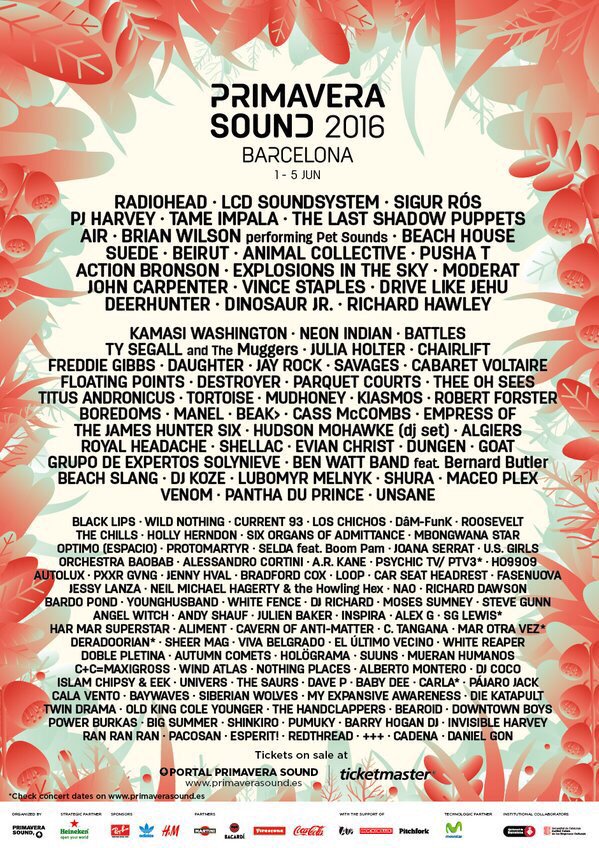 Primavera Sound Festival Lineup:
RadioHead
LCD Soundsytem
Sigur Ros
PJ Harvey
Tame Impala
The Last Shadow Puppets
Air
Brian Wilson (Performing Pet Sounds)
Beach House
Suede
Beirut
Animal Collective
Pusha T
Action Bronson
Explosions In The Sky
Moderat
John Carpenter
Vince Staples
Drive Like Jehu
Deerhunter
Dinosaur Jr
Richard Hawley
Kamasi Washington
Deon Indian
Battles
Ty Segall and The Muggers
Julia Holter
Chairlift
Freddie Gibbs
Daughter
Jay Rock
Savages
Cabaret Voltaire
Floating Points
Destroyer
Parquet Courts
Thee Oh Sees
Titus Andronicus
Tortoise
Mudhoney
Kiasmos
Robert Forster
Boredoms
Manel
Beak>
Cass McCombs
Empress of
The James Hunter Six
Hudson Mohawke (dj set)
Algiers
Royal Headache
Shellac
Evian Christ
Dungen
Goat
Grupo De Expertos Solynieve
Ben Watt Band feat. Bernard Butler
Beach Slang
DJ Koze
Lubmyr Melnyk
Shura
Maceo Plex
Venom
Pantha Du Prince
Unsane
Black Lips
Wild Nothing
Current 93
Los Chichos
DaM-Funk
Roosevelt
The Chills
Holly Herndon
Six Organs of Admittance
Mbongwana Star
Optimo(Espacio)
Protomartyr
Selda feat. Boom Pam
Joana Serrat
U.S. Girls
Orchestra Baobab
Alessandro Cortini
A.R. Kane
Psychic TV/PTV3*
H9O99O9
Autolux
PXXR GVNG
Jenny Hval
Bradford Cox
Loop
Car Seat Headrest
Fasenuova
Jessy Lanza
Neil Michael Hagerty & the Howling Hex
NAO
Richard Dawson
Bardo Pond
Younghusband
White Fence
DJ Richard
Moses Sumney
Steve Gunn
Angel Witch
Andy Shauf
Julien Baker
Inspira
Alex G
SG Lewis
Har Har Superstar
Aliment
Cavern Of Anti-Matter
C. Tangana
Mar Otra Vez
Deradoorian
Sheer Mag
Viva Belgrado
El Ultimo Vecino
White Reaper
Doble Plentina
Autumn Comets
Holograma
Suuns
Mueran Humanos
C+C=Maxigross
Wind Atlas
Nothing Places
Alberto Montero
DJ COCO
Islam Chipsy & Eek
Univers
The Saurs
Dave P
Baby Dee
Carla
Pajaro Jack
Carla Vento
Baywaves
Siberian Wolves
My Expansive Awareness
Die Katapult
Twin Drama
Old King Cole Younger
The Handclappers
Bearoid
Downtown Boys
Power Burkas
Big Summer
Shinkiro
Pumuky
Barry Hogan DJ
Invisible Harvey
Ran Ran Ran
Pacosan
Esperit!
Redthread
+++
Cadena
Daniel Gon