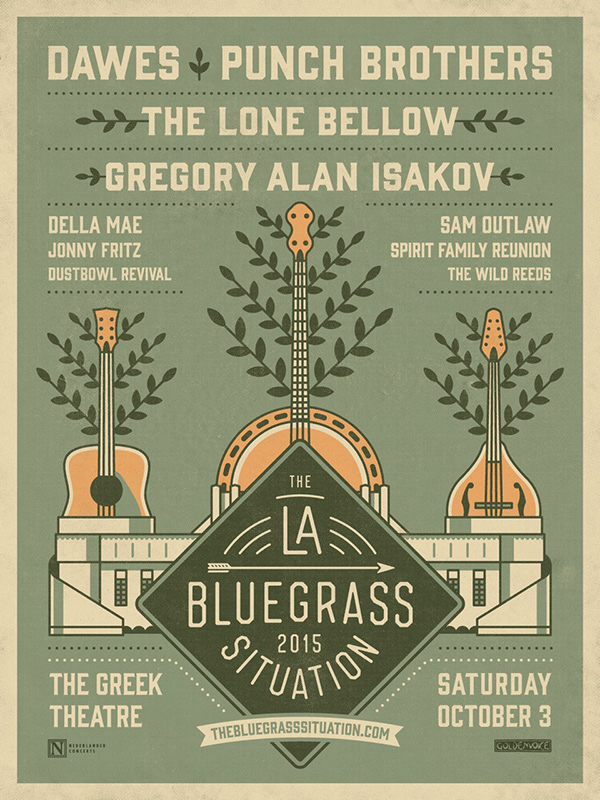 The Los Angeles Bluegrass Situation has announced its 2015 Festival lineup to take place at the Greek Theatre on October 3. The event will include Dawes, Punch Brothers, The Lone Bellow, Gregory Alan Isakov, Della Mae, Jonny Fritz, Sam Outlaw, Spirit Family Reunion, The Dustbowl Revival and The Wild Reeds.
The Bluegrass Situation is an online hub for American roots music, culture and lifestyle with one of a kind live shows and workshops. The Situation is the brainchild of Ed Helms and Amy Reitnouer, who wanted to foster the tight knit and tech-savvy community that respects a rich and varied history yet looks ahead for ways to innovate its traditions, translating them into their own authentically modern lifestyle.
All the combined musical talent at the event show off the talent The Bluegrass Situation has come to represent. Past acts have included Steve Martin, Willie Watson and Caroline Chocolate Drops. In addition to the music, the festival will also feature a full day food, culture and activities. It is a perfect way to enjoy new music as well as established acts. Tickets will go on sale today, May 29, at 10 a.m. Tickets and more information are available at GreekTheatreLA.com, and AXS.com.
LA Bluegrass Situation Festival @ Greek Theatre 10/3
Saturday, October 3
All Ages
Tickets available May 29