The Mumford & Sons have just recently announced the details of their 2012 tour dates, and have also announced details of a series of Gentlemen of the Road Stopovers in the United States.
The general tour begins on August 1st in Hoboken, NJ. The band will sweep across the nation for the entire month of August until September 1.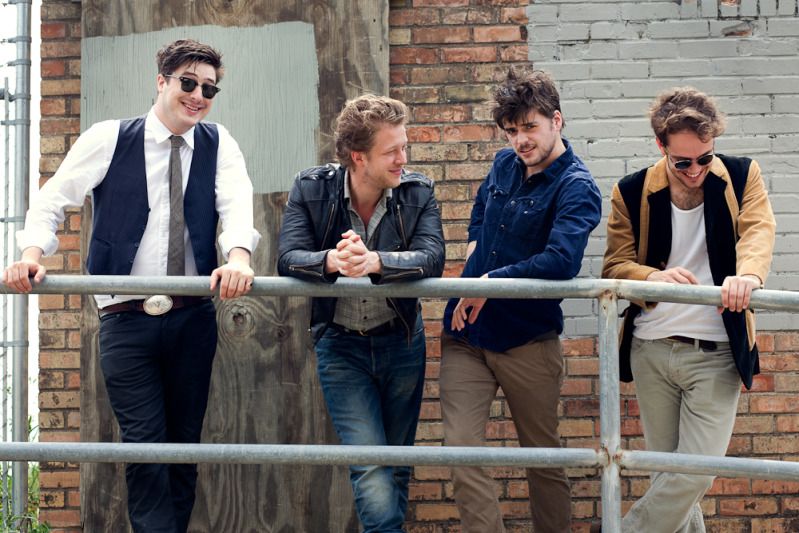 In addition, Mumford & Sons is setting up a series of mini "festivals" featuring local bands at specific cities in America, otherwise known as The Gentlemen of the Road Stopovers. The Gentlemen of the Road Stopovers quickly sold out.
The Stopovers combine excitement and intimacy over the community. Each Stopover will begin with a local band and then feature local activities, businesses, and people. Mumford & Sons will headline the event. The band themselves curated the other artists.
Here is what Mumford & Sons have to say about The Gentlemen of the Road Stopovers and the tour itself:
The Gentlemen of the Road Stopover is based loosely upon our favorite festivals like Colorado's Telluride Bluegrass and Scotland's Loopallu Festivals. We want to stop off in towns where bands don't usually tour, and celebrate the local people, food and music.
We're keen to promote the town's local businesses, and we'll be using the local bars and venues for after-show parties, whilst working closely with the local people to get everyone involved in making these shows spectacular. There will be a host of our friends playing too, and the vibe falls somewhere between 'travelling Victorian circus' and 'Victorian travelling circus'. It should be a whole lot of fun.
Mumford & Sons Upcoming Gentlemen of the Road Stopover US Tour dates:
August 4 – Gentlemen of the Road Stopover In Portland, ME (The Eastern Promenade):
Mumford & Sons
St. Vincent, Dawes
The Maccabees
Apache Relay
Simone Felice
Haim
August 11 – Gentlemen of the Road Stopover In Bristol, VA/TN (Off State Street in Downtown Bristol):
Mumford & Sons
Dawes
JEFF The Brotherhood
The Very Best
Justin Townes Earle
Apache Relay
Simone Felice
Haim
August 18 – Gentlemen of the Road Stopover In Dixon, IL (Page Park):
Mumford & Sons
Gogol Bordello
Dawes
Abigail Washburn
The Very Best
Apache Relay
Haim
August 25 – Gentlemen of the Road Stopover In Monterey, CA (Monterey County Fairgrounds): Mumford & Sons
Gogol Bordello
The Very Best
Grouplove
Two Gallants
Apache Relay
Haim
Mumford & Sons Upcoming US Tour: – Buy Tickets for this Tour Here
August 1 – Hoboken, NJ @ Pier A (No Fee Ticket)
August 4 – Portland, ME @ Gentlemen of the Road Stopover
August 6 – Providence, RI @ Providence Performing Arts Center
August 7 – Canandaigua, NY @ Marvin Sands Performing Arts
August 9 – Portsmouth, VA @ nTelos Wireless Pavilion
August 11 – Bristol, VA @ Gentlemen of the Road Stopover
August 13 – Louisville, KY @ Louisville Waterfront Park
August 14 – Columbus, OH @ The LC Pavilion
August 18 – Dixon, IL @ Gentlemen of the Road Stopover
August 20 – Lincoln, NE @ Pinewood Bowl Theatre
August 21 – Laramie, WY @ Gryphon Theatre
August 22 – Magna, UT @ The Saltair
August 25 – Monterey, CA @ Gentlemen of the Road Stopover
August 28 – Morrison, CO @ Red Rocks Amphitheatre
September 1 – Snowmass Village, CO @ Jazz Aspen Snowmass Festival