Eleven years after recording, Dead Meadow will release their Peel Session digitally on May 10th. The session includes eight songs recorded in 2000 and includes several songs that would end up on later albums.
Bassist Steve Kille said:
"Our Peel session really opened doors for us in the UK particularly with Super Furry Animals. Gruff (vocals) was driving back to Wales from London and was stuck in traffic and ended up catching the whole session on the radio. He told the band about us and we ended up doing about 5 tours with them including their massive 'Phantom Power' album all because of that rare chance of him listening to that show."
An unreleased instrumental track called "The Boot" is included in the session, as well as a demo of "White Worm" and an acoustic of "Golden Cloud."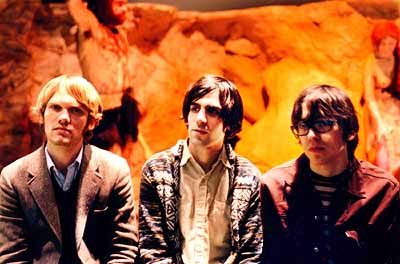 The Dead Meadow Peel session marks the first time John Peel allowed a band to record the session out of the UK.
"At the time we had no money and no tour to head to the UK but John Peel really wanted us on his show. He allowed us to record locally and since we were all good friends with Fugazi while living in DC we tracked the songs on reel-to-reel tape at their practice space in Arlington VA,"
Kille added.
In other Dead Meadow news, drummer Mark Laughlin has returned to the band, replenishing the group with an all-original lineup.