Misfits, Samhain, and Danzig fans rejoice, Glenn Danzig is blessing the masses with a new DVD. Titled Il Demonio Nera, it is a culmination of videos from Danzig 4 and Danzig 5, including the unreleased video for "Serpentia."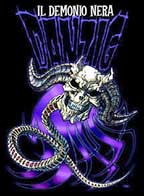 The DVD main menu is simple, having only a few options. They are "Play Feature," "Audio Set-Up" (which allows for either Dolby 2.0 or Dolby 5.1 surround sound), and "Song Selection." Unfortunately, no one ever explained to Danzig that 5.1 does not mean put the whole audio layer through each speaker, but that it should be divided into hi, low, and midrange.
While there are 12 videos, there are only six songs covered on the DVD. Most of the songs have 2 or 3 "alternate" versions, except for "Sacrifice," which is a Director's Cut. After watching the DVD, it is easy to see that the majority of these videos are mostly filler. Songs like "I Don't Mind The Pain" have 3 different versions, the MTV edit, another with the camera focused on Danzig the whole time, and the final one being a video of the band playing the song.
The differences in the videos for "Cantspeak" are so subtle that there's no need to include a "Filter Pass" version on the DVD, one would have done fine. The quality of the "Cantspeak" video also seems to be lacking. While it isn't much older than any of the others, it has a look as if it were copied from MTV via a dirty VCR. This doesn't look intentional either, which makes watching through this video twice especially tedious.
That seems to be the problem with almost all of the videos. Each version is so similar in the way it's filmed, in the actual footage, and the pacing, that the viewer gets bored watching the video straight through. There aren't enough differences or interesting sequences (except the more erotic parts of "Sadistikal") to make watching these videos interesting or enjoyable after the initial viewing.
This DVD is definitely directed at the diehard Danzig fans that own every piece of colored vinyl from his back catalogue. Most people who have a more passive interest in Danzig will find Il Demonio Nera boring and repetitive, they would do better waiting for Black Aria 2 to come out.