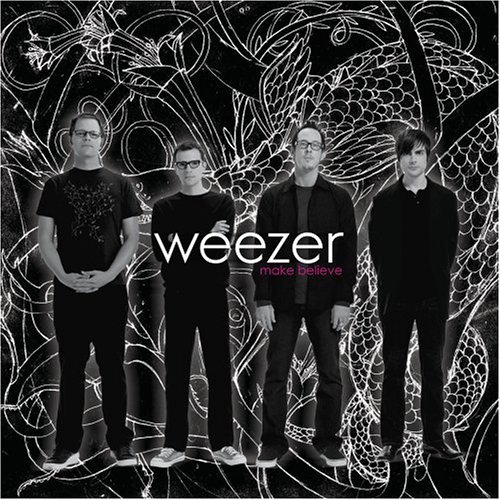 Last Flight of the Flying W?
In the world of Weezer, to which anyone from 12-sided die wielding basement nerds and college indie aficionados to thirty-something rock critics claim citizenship, one thing is well understood by frontman Rivers Cuomo & Co: pressure. Weezer's first two releases, the garage anthem sing-a-long Self-titled "Blue Album" and distortion saturated, almost too personal Pinkerton, catapulted the band into cult megastardom. Yet, they also created a nearly unmatchable standard to which their rabid fan base would compare The Weez's future efforts.
Enter Make Believe, twelve tracks spanning 45 minutes that instantly succeeds where the Self-titled "Green Album" and Maladroit could not. Instead of straddling the line between old and new, Weezer brazenly showcases a fresh, mature sound. Believe is still very much a Weezer album as the familiar sound oozes from "Perfect Situation," "Peace" and new classic "Haunt You Every Day," but for the first time the band has freed themselves to experiment. Tracks vary from the goofy anthems "Beverly Hills" and "We Are All On Drugs" to the poppy 80s new wave synthesizers of "This Is Such A Pity," and the chilled out, Postal Service-ish feel of "Freak Me Out." Largely responsible for Believe's success is Cuomo's more than ever Brian Wilson-esque songwriting. Lines such as "There's no one else to blame / For all the broken hearts / are scattered on the field of war" are as triumphantly awkward as anything on Pinkerton, as Cuomo effectively trades in disastrous relationships and abnormal thoughts for reoccurring themes of apology, loneliness, and hope for future love.
Raise those flying W's high; Believe is fine proof that everyone's favorite nerds are ready to handle life after Pinkerton.