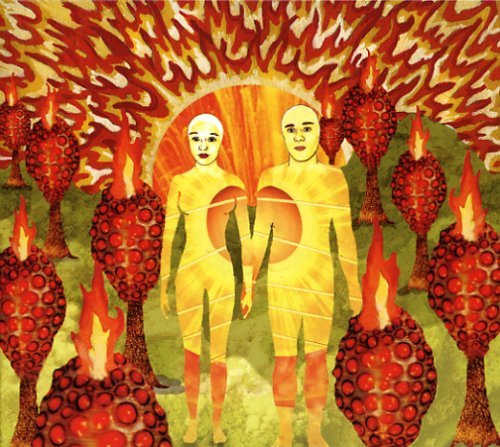 Blame Georgia, Not Canada
Of Montreal (actually from Athens, Georgia) have long been champions of the vintage 60's psychedelic pop sound. But their newest offering The Sunlandic Twins expands on previous formulas. Mastermind Kevin Barnes considers this album "electro-cinematic avant-disco," a fairly accurate (if not eccentric) description of their merger of psychedelia, vocal harmonies, and upbeat electronica.Barnes based the band's name on a breakup with a girl from Montreal, and even though the band's lineup includes his wife Nina, heartache is still a present theme. The upbeat opener "Requiem for O.M.M." is betrayed by Barnes's lyrics of longing: "I don't need a photograph / Cause you never left my mind." What sets this group apart, though, is Barnes's sharp sense of wit and the group's ability to embed addictively sweet pop melodies within more experimental formats.
Every listen will leave another hook stuck fast in your brain. "So Begins Our Alabee" is a perfect demonstration of why The Sunlandic Twins works so well. The vocals bounce along on top of an irresistable driving rock foundation encased in glitch-pop. But unlike contemporaries like The Postal Service, Of Montreal replace the sappiness with sassiness. "The Party's Crashing Us" builds a seamless sing-along chorus on top of an electro-beat that would make Daft Punk blush.
Thematically, this "electro pop opera" covers everything from a visiting Norway ("Oslo in the Summertime") to snuff films ("The Actor Approbium"), covering so much ground in between that it spills over onto a bonus EP. After 8 years, Of Montreal has learned what works and as always are ready to build upon their sound. The Sunlandic Twins is a flawless marriage of clever pop and innovation.