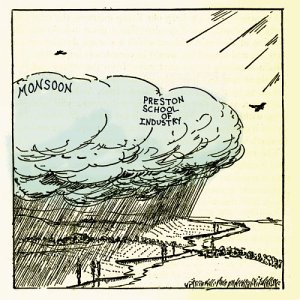 Class is Boring Over at Preston
With their second full-length album, Monsoon, it appears that Preston School of Industry has stuck with the curriculum laid out by their lackluster debut, All This Sounds Gas. Monsoon offers nothing new. It regurgitates the material off their previous endeavor which already sounds like it was uncovered from an early 90s archive. The band's architect, Scott Kannberg (aka Spiral Stairs), continues to bring to PSI what he had previously brought to Pavement – caution. He was Pavement's stabilizing element. If we can learn anything from Preston School of Industry, it's that without the creativity of former band-mate Stephen Malkmus, Kannberg simply can't deliver an album that can will your hand to press play.
After the forgettable opener, "The Furnace Sun," the album seems to take a step in the right direction as a harmonica kicks off the twangy guitar-framed, subdued track, "Walk of a Gurl." However, the interest piqued by this song is lost as it quietly blends into the remainder of the album, and the twang that was so inviting soon begins to chafe as it bleeds through song after song. Kannberg's laid back, droning vocals only add to the anonymity of each track. Though "Line it Up" and the Wilco-backed "Get Your Crayons Out!" provide breaks in the monotony, they don't hold up outside the context of the uninteresting album.
Monsoon plays like a class where you already know all the answers. Though it's comfortably digestible, unfortunately, it's just about as ambitious. In the end it is simply an easy-on-the-ears, pleasant album, best suited for background music.