Arcade Fire founding member Will Butler is continuing to fly solo these days. In October, the singer shared a video for "What I Want" and teamed up with actress Emma Stone for "Anna"
This week, the singer-songwriter announced the release of Friday Night, an upcoming live album recorded for the most part, from a performance at Chicago Lincoln Hall. According to Pitchfork, the songs will be a mixed bag: five of tracks will come from Butler's debut Policy LP, two will be songs originally recorded with The Guardian as a part of a larger project in which he wrote one song a day inspired by the publication's stories, and five tracks from the set will be originals.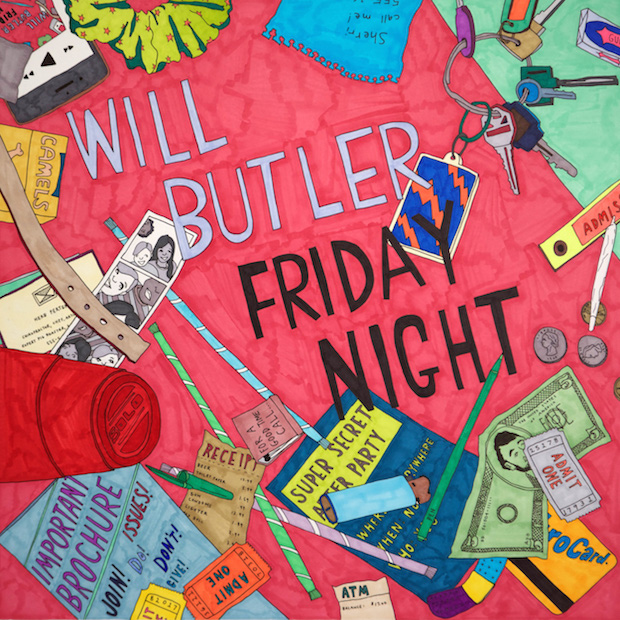 Butler tells followers how to listen to the album in a recent press release:
Think of this as a comedy record. In some ways literally-Brooklyn comedian Jo Firestone does the introduction and the "solo" in "Friday Night"-but also, it's an album based on working out ideas in a room full of people, playing off their energy and expectations. It's about taking complicated emotions and wringing communal joy from them, and then translating that joy onto record. So here you go!
The theme of comedy is one listeners might not have expected from the singer-songwriter: while Butler has used irony, sarcasm, and satire in his lyrics, the singer has never gone as far as creating work that would be reasonably identified as comedy. The theme of comedy trickles into the cover art as well. Abbi Jacobson of "Broad City" designed the nostalgic-inducing image (above), containing souvenirs and vestiges one would collect from an eventful Friday night out in the city.
Friday Night Tracklist:
01. Encore – Tell Me We're All Right
02. Introduction
03. You Must Be Kidding
04. Son of God
05. Sun Comes Up
06. Madonna Can't Save Me Now
07. Something's Coming
08. Anna
09. II
10. Sing to Me
11. Public Defender
12. Take My Side
13. Encore – Friday Night