Sara Watkins has just announced the release of her forthcoming new album, Young In All The Wrong Ways as well as a tour to support the release.

The new album by one of the founding members of Nickle Creek, Sara Watkins, titled Young In All The Wrong Ways has just been announced for a July 1 release date The forthcoming album will be released on New West Records. For a track list and the album's cover art see below.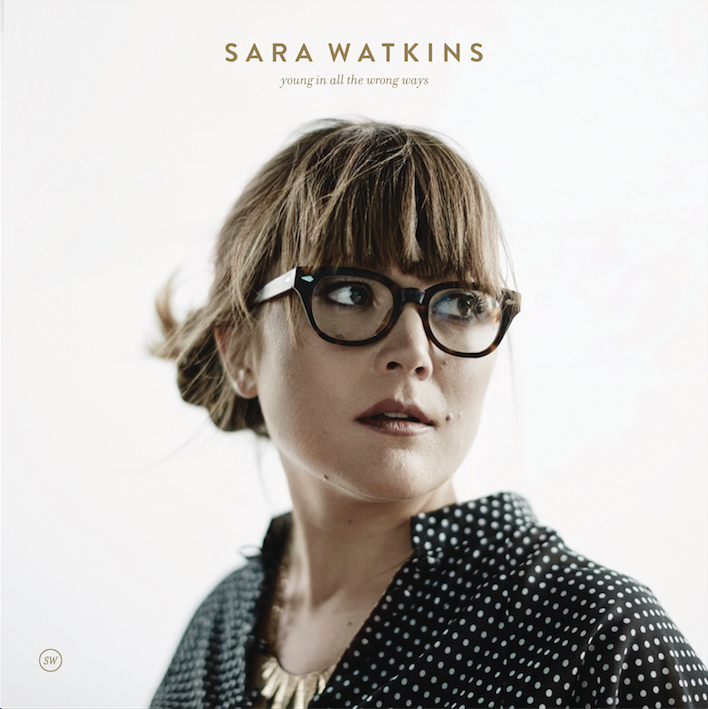 Watkins' much anticipated album will see the artist take a step back into her roots as frontwoman following her previously collaborative groups Watkins Family Hour and, of course, the platinum-selling, Grammy Award-winning Nickel Creek. According to a press release she has gone on to describe her new album as a "breakup album with herself." Meaning that when she went in to record these 10 intensely soul-baring songs it was a way for her to process what the last couple years has left for her and the transformation that has transcribed. As the press release describes it, "a record about turning the page and taking the reins, in both her career and personal life, these intimate sentiments are paired with audacious musical jumps that push against expectations in unexpected ways." The album is a very personal piece of work that shows Watkins in a very vulnerable light with powerfully emotional moments that will leave the listener thinking they are part of her life.
"I looked around and realized that in many ways I wasn't who or where I wanted to be, she describes. "It's been a process of letting go and leaving behind patterns and relationships and in some cases how I've considered myself. What these songs are documenting is the turmoil you feel when you know something has to change and you're grappling with what that means. It means you're losing something and moving forward into the unknown."
The album, which will be available on LP, CD, and digital download, is available for pre-order as of today via Pledge Music.
Watkins will return to the road in support of the new album in June on a series of performances including appearances at major festivals, like Bonnaroo and Telluride Bluegrass Festival. The expansive tour will take her from coast to coast in the fall and will wrap up with a show in Lincoln, NE at the Lied Center on November 30. For a full list of tour dates and ticketing information see below.
Sara Watkins Tour Dates:
Buy Tickets on Ticketmaster | Buy Tickets on Ticketfly
June 12 – Manchester, TN @ Bonnaroo Music & Arts Festival
June 17 – Telluride, CO @ Telluride Bluegrass Festival
June 22 – Portsmouth, NH @ Prescott Park Arts Festival
June 23 – Washington, DC @ Kennedy Center Atrium – American Acoustic
June 24 – Washington, DC @ Kennedy Center Concert Hall – American Acoustic (as I'm With Her)
June 25 – Katonah, NY @ American Roots Music Festival
June 26 – Shirley, MA @ The Bull Run
June 28 – Brooklyn, NY @ Rough Trade
July 01 – Los Angeles, CA @ Hollywood Bowl – "A Prairie Home Companion"
July 07 – Los Angeles, CA @ Largo at the Coronet
July 13 – Vail, CO @ Vail Summer Bluegrass Series
July 14 – Boulder, CO @ eTown Hall
July 16 – Oak Hill, NY @ Grey Fox Bluegrass Festival
August 13 – Alta, WY @ Targhee Fest
September 03 – Pagosa Springs, CO @ Four Corners Folk Festival
September 09 – Pasadena, CA @ Levitt Pavilion @ Memorial Park
September 10 – Santa Barbara, CA @ Lobero Theatre
September 14 – San Francisco, CA @ The Chapel
September 16 – Portland, OR @ Aladdin Theatre
September 17 – Seattle, WA @ The Tractor
September 20 – Minneapolis, MN @ Dakota Jazz Club
September 21 – Chicago, IL @ Old Town School Of Folk Music
September 24 – Atlanta, GA @ City Winery
September 25 – Asheville, NC @ The Grey Eagle
September 27 – Annapolis, MD @ Rams Head On Stage
September 28 – Philadelphia, PA @ World Cafe Live
September 20 – Pawling, NY @ Daryl's House
October 01 – Allston, MA @ Brighton Music Hall
October 02 – Portland, ME @ One Longfellow Square
October 03 – Northampton, MA @ Iron Horse Music Hall
October 05 – New York, NY @ Bowery Ballroom
October 06 – Washington, DC @ The Hamilton
October 09 – Peninsula, OH @ The G.A.R. Hall
November 02 – Dublin, IE @ Whelan's
November 03 – Belfast, IE @ Errigle Inn
November 04 – Bury, UK @ Met
November 05 – Gateshead, UK @ The Sage
November 06 – Sheffield, UK @ Greystones
November 08 – Bristol, UK @ Tunnels
November 10 – London, UK @ Bush Hall
November 11 – Oxford, UK @ Bullingdon
November 12 – Guildford, UK @ St. Mary's
November 13 – Saltaire, UK @ Live at Caroline
November 30 – Lincoln, NE @ Lied Center
Young In All The Wrong Ways Track List:
01. Young In All The Wrong Ways
02. The Love That Got Away
03. One Last Time
04. Move Me
05. Like New Year's Day
06. Say So
07. Without A Word
08. The Truth Won't Set Us Free
09. Invisible
10. Tenderhearted