Big news as organic supermarket giant, Whole Foods, adds selling vinyl records to their in-store repertoire. These vinyl record displays have been added to 5 of the 340 national stores.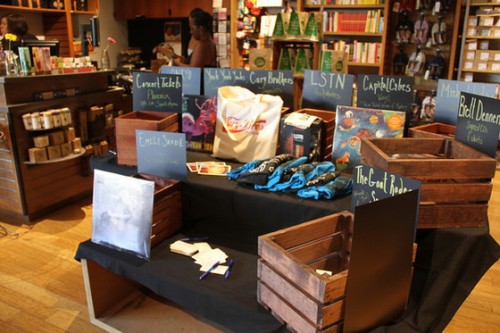 Austin-based organic supermarket chain, Whole Foods, has done some in-store remodeling to 5 of their 340 stores nationwide. Whole Foods has just introduced their vinyl records displays last weekend to 5 of their Southern California locations, including Los Angeles, West Hollywood, Pasadena, Santa Barbara and Venice. These new displays offer GMO and cruelty-free vinyl records, as well as 'locally sourced' recycled wood headphones by LSTN. It has been speculated that the new 'vinyl revival' stems from a growing trend among young people, in an interest to buy their favorite records, new and old, on vinyl. Some of the records Whole Foods has on their new displays are LPs from Yeah Yeah Yeahs, Daft Punk, Tegan & Sara, Emeli Sande and more.
It has not yet been announced as to if in-store vinyl will become a national movement for the Whole Foods organization.
"Whole Foods Market is excited to scratch the surface of the music industry by introducing vinyl records and LSTN Headphones for our shoppers who want to turn the volume up on their regular music listening experience. This launch isn't just about stocking our shelves with something new and different – it's about listening to our shoppers and giving them access to the things they want – whether it's their favorite cheese or their favorite way to enjoy music." – Mike Bowen, Whole Foods Executive Coordinator, South Pacific region