Slapdash and BombOnEm in association with Earmilk and YouHeardThatNew present their Post Traumatic Fresh: Austin, TX SXSW party.  The party is hosted at Shangri La and features music from Jon Connor, STS, Dee-1, and Laws.  More details after the jump.
6 PM-11 PM, Thursday, March 15, Shangri La 116 E. 6th Street Austin, TX 78702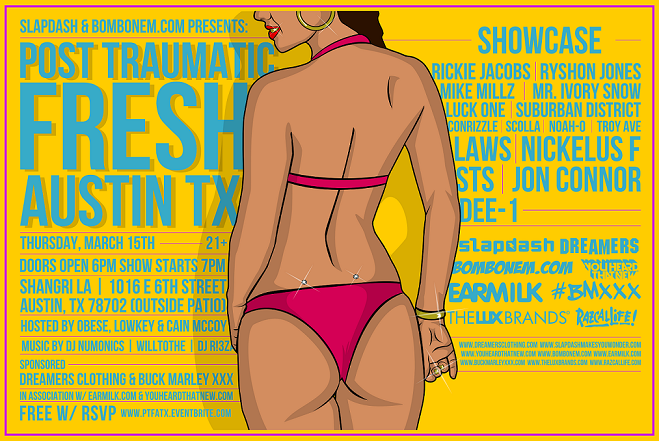 Full Lineup:
Music By DJ Numonics, WillToThe & DJ R!3ZA
7:00pm – Rickie Jacobs
7:15pm – Ryshon Jones
7:30pm – Mike Millz
7:45pm – Mr. Ivory Snow
8:00pm – Luck One
8:15pm – Suburban District
8:30pm – Conrizzle
8:45pm – Scolla aka Young Scolla
9:00pm – Noah O
9:15pm – Troy Ave
9:30pm – Laws
9:45pm – Nickelus F
10:00pm – Dee-1
10:20pm – STS
10:40pm – Jon Connor
This party is free (21+), but you must RSVP at Eventbrite quickly!