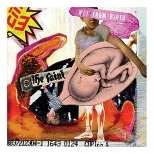 Faint Praise? Damn!
The Faint spent a good two years away from their hometown of Omaha, Nebraska, touring behind their 2001 alt-smash Danse Macabre. That time on the road allowed the quintet to cobble together both new material and new perspective.Their fourth album, Wet From Birth, is the theoretical soundtrack for the movie after the 1980s feel-good teen comedy ends. These are the bitter beeps John Cusack's darkly handsome slacker might spit out (alongside fellow freaks James Spader and Anthony Michael Hall) after prom-queen girlfriend Molly Ringwald returns from summer vacation and invokes the curse of sex and any city: She's just not that into him.
Indeed, for 34 minutes the album obsesses over relationships wrecked by distances, some conceivably encountered by the Faint on tour — oceans separating continents ("Southern Belles in London Sing"), social stratification ("Desperate Guys"), substance and style ("How Could I Forget?"), even a certain average length between body and clothing ("Erection").
With this songwriting focus on impersonalities that affect intensely personal relationships, the Faint themselves are distanced from the odd-job character studies and critiques of commerce found on Danse Macabre. Further showcasing their musical development, the band also enhances their edgy electronics with string sections, occasional dub stylees, punky pacing, and even British chanteuse Petula Clark, an inspiration for two tracks.
The Faint no longer pay quaint homage to overeager synth-pop. They filter the New Wave's earnestness and angst through the 1990s' techno/industrial infatuation, proving with Interpol and the Rapture that everything old is new again here in the Aughts. The message of Wet From Birth ain't pretty in pink, but the music is some kind of wonderful.